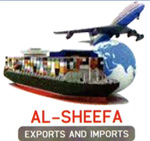 AL SHEEFA EXPORTS AND IMPORTS
Based in Chennai (Tamil Nadu, India), we, Al Sheefa Exports and Imports, are a growing trader, supplier and exporter of Drumstick Seeds, Cinnamon, Carrot, Ginger, Coconut, Lemon, Dried Basmati, etc. Along with these, we are working as an importer of Jasmine Flowers that are extensively used in decoration and making cosmetics, perfumes and incense sticks. Cultivated and processed under hygienic conditions at the vendors' farm, our products are of superior quality. We are winning hearts of customers due to our abidance to absolute clarity in the deals and emphasis on their valuable suggestions. Further, we are growing in the domain due to our reasonable prices of the products and customer friendly business policies.
Business Specifications:-
Business Type: Supplier, Trader, Importer and Exporter
Banker: Axis Bank
Company Branches: 01
No. of Employees: 10
Year of Establishment: 2016
Annual Turnover: INR 1 Crores
Export Turnover: INR 50 Lakhs
Import Turnover: INR 50 Lakhs
Importers/ Exporters Code: 0415042101
Total Capital: INR 70 Lakh
Export Percentage: 100%
Import Percentage: 50%
Export Markets: United Arab Emirates
Products Offered:-
Vegetables

Drumstick Seeds
Drumsticks
Capsicum
Onion
Potato
Carrot
Cabbage
Ginger
Coconut
Lemon
Cauliflower
Brinjals
Green Chilly

Spices
Pure Indian Ghee
Tea
Seeds
Dried Basmati
Jasmine Flower




Buyers Helpdesk

Let tradeindia.com find Quality Suppliers for you!

AL SHEEFA EXPORTS AND IMPORTS All Rights Reserved.